Are you a photographer struggling to keep your finances in order?
Do you find it challenging to manage invoices, track your expenses, or stay on top of your taxes?
If your answer is yes, it might be time to explore the world of Best Accounting Software for Photographers.
Accounting software is not just about number-crunching. It is an intelligent tool enabling you to manage your financial operations seamlessly.
For photographers, this means having a clear picture of your income and expenses, streamlining the invoicing process, and keeping track of clients' payments.
Whether you are a professional, freelance, or hobbyist photographer, effective accounting software can help you stay organized, save time, and focus on what you love most – capturing beautiful moments through your lens.
Why is photographer-specific accounting software essential, you might ask?
Photographers often deal with complex financial aspects, from varying project rates and irregular income streams to distinct expense categories like equipment upgrades and travel costs.
Let's dive deep and have a look at some of the best accounting software for photographers.
Best Overall
With QuickBooks, make tracking receipts, income, bank transactions, track and manage your whole financial picture in one place—from bank transactions, expenses, and beyond.
Easy-to-use

Built for Business owners and accountants, FreshBooks' easy-to-use Double-Entry Accounting tools and reports show profitability, cash flow health, and details your spending.
Why Should Photographers Need Accounting Software?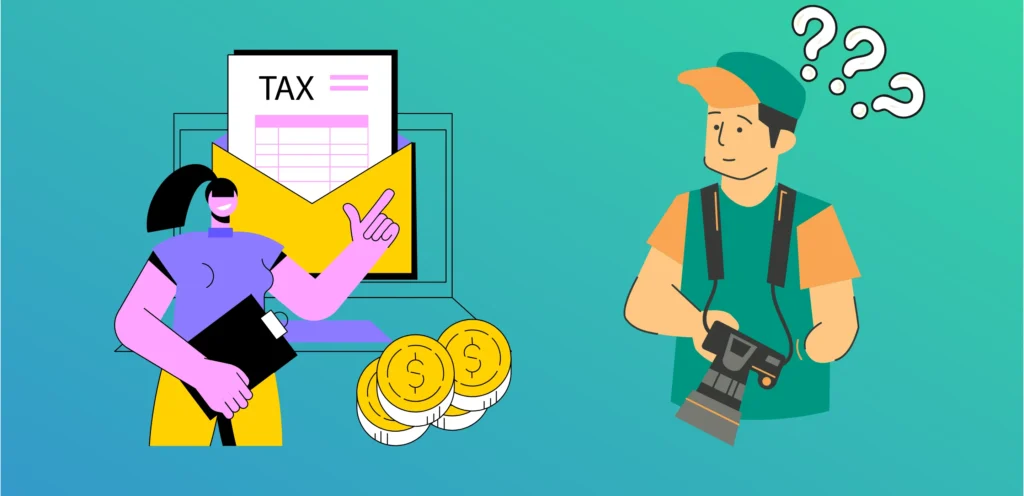 Financial Management
As a photographer, you deal with numerous financial transactions daily, from client invoices to equipment purchases, studio rentals, and travel expenses. Managing these manually can be time-consuming and prone to errors. Accounting software helps automate these tasks, ensuring efficient and accurate financial management.
Ease of Invoicing
Creating, sending, and tracking invoices can be a significant task for photographers, especially those dealing with multiple clients. Accounting software often comes with built-in invoicing tools that simplify this process, allowing you to generate professional invoices quickly, send them electronically, and keep track of payments.
Expense Tracking
For photographers, expenses can come from various sources, like equipment purchases, maintenance costs, travel, and studio rentals. Accounting software helps you record these expenses as they happen, categorize them for better understanding, and track them over time, providing valuable insights into your spending habits.
Tax Preparation
Tax season can be daunting for photographers who haven't kept their finances organized throughout the year. Accounting software keeps track of your income and expenses in a structured way, making it easier to calculate your tax liabilities. Some even have tax features built-in, helping you understand how much tax you owe and when payments are due.
Time-Saving
Managing finances can be time-consuming. For photographers, every minute saved on administrative tasks is a minute that could be better spent focusing on their craft. Accounting software helps automate financial tasks, freeing up valuable time.
how to invoice for photography services?
Invoicing for photography services is an essential aspect of managing your business. It's the way you formally request payment from your clients.
To do this effectively, you need to understand what to include in your invoice.
What to Include in the Invoice?
Ideally, your invoice should include the following:
Your Business Details: This includes your business name, contact details (address, phone number, and email), and your logo if you have one.
Client Details: Include the client's name, company name (if applicable), and contact details.
Invoice Number: Each invoice should have a unique number for tracking and reference purposes.
Date: The date when the invoice is issued.
Description of Services: A detailed breakdown of the services you provided. This could include the type of photography, the number of hours spent, the number of photos provided, etc.
Cost: The cost associated with each service provided, along with the total amount due.
Payment Terms: Include your preferred payment method and due date. This is usually within a set number of days from the invoice date, such as 30 days.
How to Create the Invoice?
Manual Invoicing

: You can create an invoice using word processing software like Microsoft Word or Google Docs. There are many free templates available online that you can use as a starting point.
Accounting Software

: Many accounting software options, like those mentioned earlier, come with built-in invoicing features. These allow you to create professional invoices, send them electronically, and track them easily.
How to Send the Invoice?
Once you've created your invoice, it's time to send it to your client. Most businesses today prefer to receive invoices electronically, so you can typically send them via email.
Be sure to include a clear subject line like "Invoice for Photography Services" and a message in the body of the email explaining what the invoice is for.
You can attach the invoice as a PDF, ensuring the client can't accidentally alter it.
7 Best Accounting Software for Photographers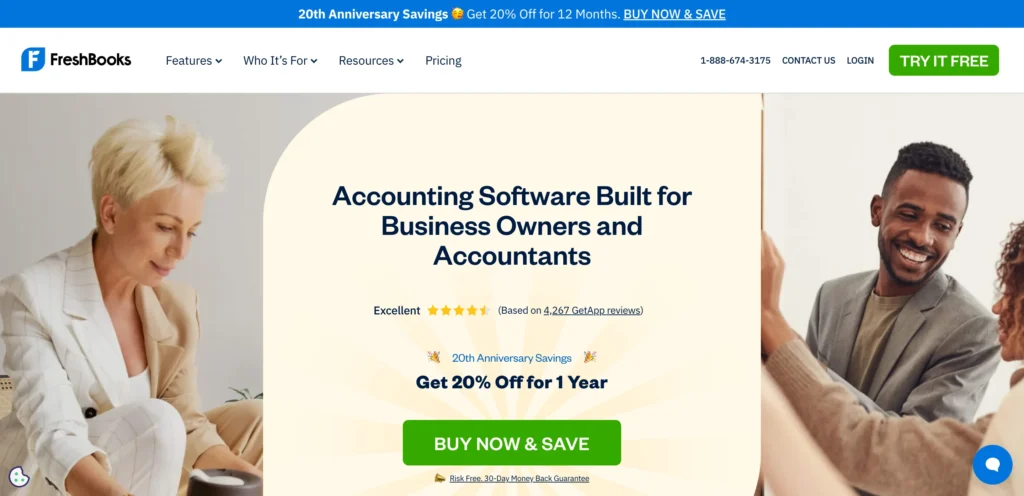 FreshBooks is one of the Best Accounting Software for Photographers. Freshbook is a cloud-based accounting solution, well-suited for small businesses including freelance photographers.
Recognized for its user-friendly interface, it's a perfect choice for those new to finance management.
FreshBooks allows photographers to streamline their business operations, handle finances effortlessly, and save time to focus more on their creativity.
It simplifies invoicing, and expense tracking, and provides a transparent view of the financial health of your business.
Invoice generation
Expense tracking
Time tracking
Project management
Photo organization for billing
PRICING PLAN
LITE

$13.60/month or $142.80/year (Billed Annually)

PLUS

$24.00/month or $252.00/year (Billed Annually)

PREMIUM

$44.00/month or $462.00/year (Billed Annually)
QuickBooks is a comprehensive accounting software catering to small businesses, including photographers. Its vast set of features makes financial management a breeze.
It allows automatic integration with your bank account, giving real-time insights into your business finances. QuickBooks ensures your business is always tax-ready and makes payroll management effortless.
Income and expense tracking
Professional invoicing
Bill management
Payroll handling
Tax features
HoneyBook is a robust business management platform specifically designed for creative professionals. It harmoniously combines client management, project tracking, and financial management.
With HoneyBook, photographers can maintain efficient communication with their clients, ensuring timely payments. It also provides a platform to create and manage branded business proposals.
Invoicing
Contract management
Automated payment reminders
Proposal creation and management
PRICING PLAN
STARTER

$15.20/month or $12.80/month (Billed Yearly) – Start with everything you need to create great client experiences.

ESSENTIALS

$31.20/month or $25.60/month (Billed Yearly) – Grow with added productivity and automation tools.

PREMIUM

$63.20/month or $52.80/month (Billed Yearly) – Scale up with priority support for your whole team.
Moon Invoice is an intuitive accounting tool ideal for freelance photographers. It offers a clear interface for easy navigation and operation.
It supports multiple currencies, making it an excellent choice for photographers working with international clients. With Moon Invoice, you can create professional invoices, estimates, and credit notes conveniently.
Invoice creation
Estimate and credit note generation
Purchase order management
Time tracking and expense management
Multi-currency support
PRICING PLAN
BRONZE

$7.99/month or $6.67/month (Billed Yearly) – 25 Contacts • Single Business • Single User

SILVER

$9.99/month or $6.83/month (Billed Yearly) – Everything Unlimited • Single Business • 1 User

GOLD

$19.99/month or $13.67/month (Billed Yearly) – Everything Unlimited • 3 Businesses • 1 User
Iris is a comprehensive business management platform specifically built for photographers. It integrates CRM, invoicing, contract management, and bookkeeping into a unified platform.
Iris offers a client portal that enables your clients to view invoices, contracts, and scheduled sessions in one place. It minimizes administrative work, leaving more time for photographers to concentrate on their creativity.
Session scheduling
Workflow automation
Invoicing
Client Portal
CRM
PRICING PLAN
BASIC

$25/month or $270/year (Billed Annually) – Getting started

PROFESSIONAL

$35/month or $357/year (Billed Annually) – Growing businesses

PROFESSIONAL PLUS

$45/month or $450/year (Billed Annually) – Scaling business
Wave is a free accounting software that provides an impressive array of features, making it suitable for freelance photographers and small businesses on a tight budget.
Wave enables you to handle your financial operations smoothly. Despite being free, it provides functionalities such as invoice generation, expense tracking, and receipt scanning that are comparable to premium software.
Invoicing
Expense tracking
Receipt scanning
Online payments acceptance
PRICING PLAN
100% FREE

• Get unlimited income and expense tracking.
• Add unlimited partners, collaborators, or accountants.
• Know if you should charge clients more just by glancing at your dashboard.
• Make unlimited bank and credit card connections.
• Access helpful reports like Overdue Invoices and bills and Profit & Loss.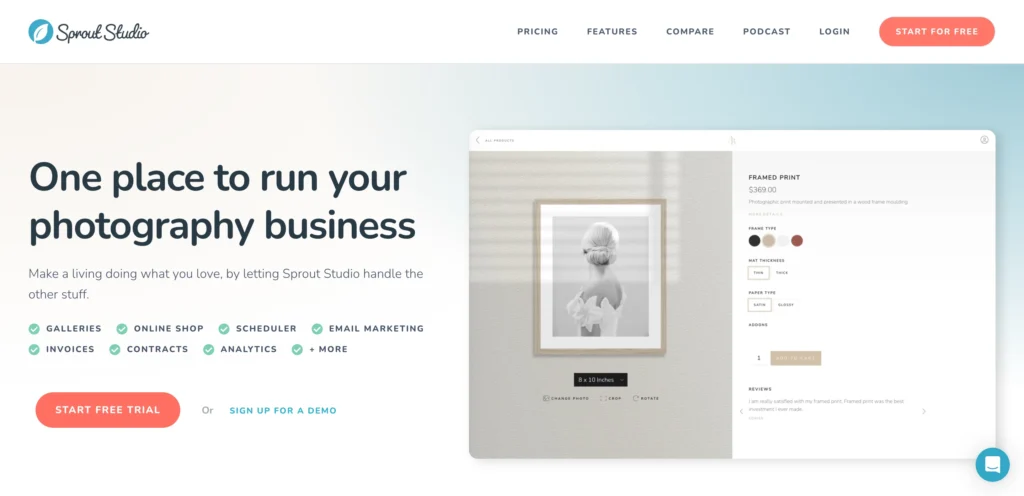 Sprout Studio is a specialized business tool for photographers, combining studio management software, online galleries, album proofing, and sales galleries into one platform.
Sprout Studio helps photographers to streamline their workflow and manage their business more effectively. It also includes a sales gallery feature to facilitate selling work directly through the platform.
Scheduling
Invoicing
Bookkeeping
Client management
Sales Gallery
PRICING PLAN
LITE

$19.00/month or $17.42/month (Billed Annually) – Perfect for photographers just getting started.
– 10 active shoots + galleries
– 50GB photo storage
– 3 users, 2 brands

BASIC

$36.00/month or $33.00/month (Billed Annually) – The essentials to grow your business.
– 20 active shoots + galleries
– 100GB photo storage
– 3 users, 2 brands

PRO

$51.00/month or $46.75/month (Billed Annually) – A toolbox for established photographers
– Unlimited active shoots + galleries
– 200GB photo storage
– 3 users, 2 brands

UNLIMITED

$69.00/month or $63.25/month (Billed Annually) – All-inclusive to get serious about your business.
– Unlimited active shoots + galleries
– Unlimited photo storage
– Unlimited users, unlimited brands

conclusion
Being a good photographer isn't just about taking cool pictures. It's about running your business smartly. That means managing your money and getting paid.
So, give the money tools a try, sort out your bills, and see how it can make work easier. You've got this!
Accounting tools help you handle cash stuff, track spending, get ready for tax time, and save time. Each one of them has special features they can offer and various flexible pricing options. Some even let you try them for free.
So, why not try out some of the best accounting software for photographers, get your invoices sorted, and see how it can make your work life easier? You've totally got this!