Ever looked at a perfectly cut sheet of ply and wondered how it was done?
Be it ply, acrylic, and now, even metal – the answer is in the code. 
With CNC router software, you can create precise designs and products right at your home (as well as in industries).
While CNC tools have a variety of usage areas right from casual hobbyists to name-plate carving professional stores to metal stamping – we're going to look at what makes CNC software great – and which are some of the best CNC software for beginners in the market right now.
What is CNC Software?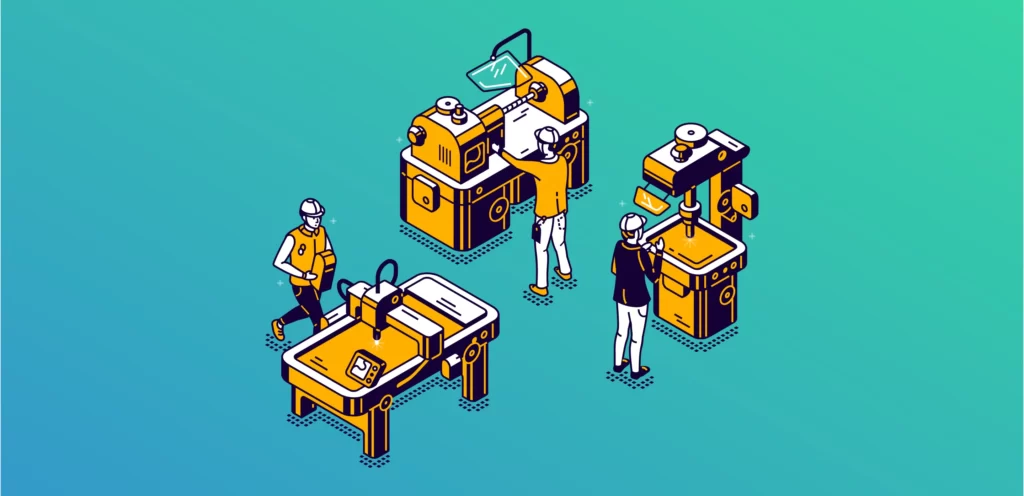 CNC software is one that can allow a physical machine to move and maneuver in a specific way. Thus, with the input of a specific type of code, one can use machines to make precise cuts, molds, and prints. 
Think of a saw.
While your hand might only have some amount of stability, with a CNC code input, you can make the saw move accurately along an exact line!
Now, apply these onto any nozzle, drill, or carver, and what you have is a CNC tool controlled by CNC software. 
CNC software allows one to visualize these cuts, molds, or prints and export the code onto the actual machines!
It can control everything from cutting paths to the final structural stability of the product. 
How Does CNC Software Work?
CNC tools are those that can be used to control various aspects of a machining process.
This includes things like cutting speed, the thickness of print material, material temperature, thickness, fill, texture, and more. 
Using CNC software, all this data gets converted into a G-code.
The G-code is then read by a CAD device, which sends impulses to an actual machine such as a laser cutter or 3D printer which in turn creates the final result. 
Broadly, there are four kinds of software involved: 
Computer-Aided Designing (CAD) software

: Creates 2D, 2.5D, or 3D designs and exports them in the desired format

Computer-Aided Machining (CAM) software

– Converts the designs to G-code, a language understood by machines

Control Software

– reads the G-code and creates signals to control the stepper motor drives

Simulation software

– reads the G-code and predicts errors that may arise while machining usually by projecting a virtual 3D object
Additionally, one can use other intermediate tools to get more control or simply an all-in-one device that contains them all.
Integrated CAD-CAM tools are also available as a complete setup. 
Factors to consider while choosing Software for your CNC Application
If you have a clear idea in mind of what you are looking to create, you can look at some of the tools we've discussed.
If you're not clear on it, have a look at the points below to decide which range best suits your needs. 
✅ Cost
While some CNC software is free, they need some form of assembly and a separate control tool. Others might come with an upfront cost or a subscription-based model. 
✅ Capabilities & Features
In-software capabilities mainly determine whether it is a beginner or advanced tool. Advanced tools generally allow many maneuvers to create complex and intricate shapes and models. 
✅ CNC Techniques supported
Depending on the output needed, you can look for CNC tools that support 2D cutting, 3D printing, or more complex procedures like turning and milling along multiple axes.
✅ File formats supported
Most tools support SVG, DXF, and OBJ files. However, advanced users might want those that can import and export JAR files or those where code can be imported and edited.
✅ Collaboration with other software
If you get an all-in-one tool, this is not as important. However, for people who buy software independently, it's important to ensure that they can work in tandem. 
Here are the 11 best CNC Software for beginners & Professionals in 2023:
Easel

– Best All-In-One CNC Software.

Carbide Create

– A Do-It-All Single Package Software.

Fusion 360

– All-purpose CNC CAM Software.

LinuxCNC

– Best Free CNC Control Software.

AutoCAD

– Most beginner-friendly designing software.

PlanetCNC

– Free Software with G-code Manipulation.

TurboCNC

– Reliable CNC Software.

Universal Gcode Sender

– CNC Software With G-code Manipulation.

GRBL

– Powerful, Dependable Free CNC Software.

Mach 4

– Overall Best Professional CNC Software.

V-Carve Pro

– Professional CAD Software for CNC.
11 Best CNC Software for Beginners & Professionals:
Let's look at some of the best CNC router software out there!
Ξ Best All-In-One CNC Software.
A browser-based software, Easel is one the best, free, and easy-to-use CNC software. It has a simple and highly intuitive UI complete with tooltips and beginner instructions. 
The company – Inventables also has its own forum and design community where you can get help as well as pre-designed templates. With Easel, you can carve, raster, image trace, and more. 
With the Pro Plan, you can get some additional features like V-Carving and custom-created toolboxes with in-built settings for different materials. 
Easel is also a great tool if you're looking to collaborate with others. They allow file sharing, cloud storage, and file organization even in the forever free plan!
Entire design tool set for 2D and 3D
Can automate the shortest toolpath
Has its own design library and templates
Supports v-carving, raster carving, and tiling
Two-stage carving possible
PRICING PLAN
EASEL

Free to use after Easel Pro Trial.

EASEL PRO

$233/year (from $19.42 / month) – Best for Personal Use
Pros
Beginner-friendly and good free package.
All-in-one tool that supports 2D and G-code import.
Recommended and in-built settings.
Cons
Works directly with only GRBL-based CNC machines.
Best for: 2D machining
Level: Beginner
Ξ A Do-It-All Single Package Software.
Carbide Create is a CAD software made for CNC routers, capable of exporting G-codes and file formats of DXF and SVG.
It has a simple interface that can be used for dimensional drawing, freehand splines, rastering, text cut-outs, and more. 
The team also offers its own design elements bundle that you can use to get started.
One of their best features is using a boolean in the 2D drawing.
The free plan offers basic engraving options.
You can access V-carving, 3D simulations, and even mesh contours with paid plans!
Allows engraving, rastering, rest machining, ramping, and v-carving.
Both 2D and 3D toolsets, including extraction of 2D into 3D!
Offers 3D simulation 
Tool library, including automated speed and feed settings
Design elements library available 
PRICING PLAN
FREE

Carbide Create is Free to use and is a great way to go for 2D and 2.5D CAD/CAM.
However, If you need 3D toolpaths then we've got two options for you:
● If you already have 3D CAD or already have 3D files to machine, we'd recommend MeshCAM.
● If you need to start from a blank canvas, check out Carbide Create Pro.
Pros
G-code can run on any CNC machine – not dependent on Carbide CNCs.
Auto-alignment for best fit.
Auto-image tracing and boolean options – 2D tools are a great fit for the package.
Cons
Most 3D tools are only available in the paid packages.
Best for: Simple 2D machining
Level: Beginner
Ξ All-purpose CNC CAM Software.
Fusion 360 is one of the more complex tools on the list, with a steep learning curve.
However, as far as tools go – Fusion 360 is a CNC router software capable of doing anything!
Fusion has them all from 2D to 3D meshes to multi-axis machining.
However, let's focus only on its CNC machining abilities, for now. Fusion's software generates the shortest and cleanest iteration paths that can reduce machining time by over 50%.
It can support up to 5 different axes, 2D turning, as well as a combination of turning and milling. 
Supports 2D and 3D designs
Can allow for parametric, mesh, and freeform modeling
Flatten parts for sheet metal-based manufacturing
Direct integration with multiple types of manufacturing devices
Supports simultaneous milling for up to 5 axes
PRICING PLAN
OPTION #1

$70/paid monthly

OPTION #2

$545/paid annually – Savings of 35% compared to the monthly price

OPTION #3

$1,555/paid every 3 years – Best Value
Pros
Best all-in-one tool for 2D and 3D modeling, used by many large studios.
Apart from modeling, allows for collaboration, data management, and cloud documentation of work.
Hundreds of verified extensions to extend capabilities.
Cons
Expensive for hobbyists or smaller firms.
Large and advanced tool arsenal, with no simpler or free version available.
Best for: 3D machining
Level: Advanced
Ξ Best Free CNC Control Software.
Definitely one of the oldest and most trusted open-source CNC software. LinuxCNC is a Linux OS-only scalable tool that anyone can use from beginners to experts. It comes with a simple enough UI that allows customizations related to speed, toolpath, feed rate, spindle control, and more. 
The ever-growing LinuxCNC online forum has made sure that experts can use it with different extensions and add-ons to increase its capabilities. With a high level of user control on its GUI and setup, LinuxCNC is a great choice for Linux users to get into. 
Only CNC-based, hence 2D, or drawing capabilities are not present
Can simultaneously run 9 different axes
Advanced motion control features – path deviation and velocity control
Supports non-Cartesian motion systems
Can be used to control robots such as PUMA or SCARA (in addition to regular laser and milling machines)
PRICING PLAN
FREE

LinuxCNC (formerly Enhanced Machine Controller or EMC2) is a free, open-source Linux software system that implements numerical control capability using general-purpose computers to control CNC machines.
Pros
Create your own dashboard – a unique feature.
Highly advanced CNC tool for precise and accurate machining.
Open source code, experts can modify as needed.
Cons
Linux-based only.
Have to self-configure using a breadboard.
Best for: 2D, Milling, and 3D Printing
Level: Medium to Advanced
Ξ The most beginner-friendly designing software.
When it comes to 2D dimensional drawing, few can beat out the behemoth that is AutoCAD! One of the earliest successful CAD software, AutoCAD can be used for both complex 2D and 3D modeling. 
It comes with all possible features to create intricate and mesh-based designs. You can integrate plugins to get parametric or organic shapes. While there's no in-built CAM feature, it can be added on as a plugin. 
Despite its growing community and excellent capabilities, AutoCAD comes with a limited free license, and the paid plan can be expensive for hobbyists. The free trial has a validity of 1 year – making it a great beginner-friendly stepping stone for CAD users. 
Best 2D drawing toolset with both precision drawing and organic splines
A Hugh free online library
Extensions available for mesh and poly-based 3D modeling
Rastering possible
Supports many types of file exports, compatible with most CAM tools
PRICING PLAN
OPTION #1

$235/paid monthly

OPTION #2

$1,865/paid annually – Savings of 34% compared to the monthly price

OPTION #3

$5,315/paid every 3 years – Best Value
Pros
Easy for beginners to learn and grow with.
Online collaboration and cloud documentation are available.
Automatic error prevention for edges in intricate drawings.
Cons
CAD base only and the user will need a separate tool for setting G-Code specs.
Best for: 2D, Milling, and 3D Printing
Level: Beginner to Advanced 
Ξ Free Software with G-code Manipulation.
PlanetCNC is a G-code manipulation tool, which means it can essentially import a variety of files, create custom G-codes regarding machining and then export them in any required format. It is more of an interim tool that all users looking for perfect and intricate machining should have.
You can import pretty much any file type, including advanced Python codes, convert them into a visual cue, and export them as DXF along with machine position orders. Moreover, it is totally free and has an active help forum online!
Basic hardware set with input boards and 3 outputs
Can control up to 9 different axes
Works with servo and stepper motors
GRBL-based only
Can send commands via both USB and ethernet connection
PRICING PLAN
FREE

Software is free to use with controllers that have a valid license.
Pros
USD-based control, is easy to install and run with multiple machines.
Can take in various types of file format inputs.
Open code, can be edited to support advanced functions.
Cons
Basically a CNC controller, no CAD features.
Best for: 2D Printing
Level: Advanced; Linux users only
Ξ Reliable CNC Software.
If you're a DOS user using open-source CNC software that's no-frills, trusted and comes with a built-in code editor, look no further than TurboCNC! Similar to PlanetCNC, TurboCNC is a legacy tool that has been in use for ages and performs well.
While the UI is dated, you can use this tool to do parametric programming, set up multiple axes threading and get precise timing. TurboCNC comes at an upfront one-time cost of 60 USD.
Can support a simultaneous motion in up to 8 different axes
CNC controller only – with built-in code editor
Can work with parametric, helical, and other types of meshes
Various threading types are possible including end tapering
Compatible with various output CNC types
PRICING PLAN
ONE TIME FEE

TurboCNC is fully functional shareware with a $60 registration fee (US dollars).
Pros
No limit on file size for imports and exports.
Can write as well as import and edit code.
Best for 1D and 2D carving.
Cons
Declining popularity due to lack of updates.
Best for: 2D, Milling, and 3D Printing
Level: Intermediate; DOS users only
Ξ CNC Software With G-Code Manipulation.
Like its name, Universal Gcode Sender is a G-code editor and does not include modeling features (like Fusion or AutoCAD). It does however have both 2D and 3D visuals, code editors, and various machining options. 
Universal Gcode Sender can export files in JAR format and is supported on all 3 major operation systems – Windows, Mac, and Linux. This is one of the best free CNC software for beginners, available for free on GitHub due to a simple GUI and active online community support. 
Interactive and intuitive dashboard for non-coders
Offers 3D simulation 
Various automated modes and control for speed and feed
Offers duration estimates and exact cutting tool paths
G-code editor (basic) 
PRICING PLAN
FREE DOWNLOAD

UGS (Universal Gcode Sender) is a free CNC controller program. The term "Universal" refers to its ability to work with various firmware alternatives, including GRBL, TinyG, Smoothieware, and G2core.
Pros
Works with Windows, OSX, and Linux.
Works with various controllers like  GRBL, TinyG, g2core, and Smoothieware.
Simple and intuitive – high-control CNC tool for beginners.
Cons
One-time download, no support or updates are available apart from online forums.
Best for: 2D, Milling, and 3D Printing
Level: Beginner to Intermediate
Ξ Powerful, Dependable Free CNC Software.
GRBL is an open-code firmware that can be used for any type of three-axis CNCs. Despite its limitation of 3 axes, GRBL is a high-performance tool that works with multiple CAM-type machines. 
It can support various complex motions like helixes but needs to be integrated and set up with an Arduino that uses an Atmega 328 microchip. The code is open source and available for free on GitHub. This is a great option for those looking to create jitter-free milled pieces!
Essentially a firmware that can be integrated with most CAD and CAM tools
USB integration available
Can control velocity, shorten tool paths and axes motions
PRICING PLAN
FREE DOWNLOAD

GRBL (which doesn't actually stand for anything in particular, and is pronounced like "gerbil") is free, open-source software that was developed as motion control for an Arduino microcontroller board, making it possible to use an Arduino to operate CNC machines.
Pros
Free, easily available, and can be manipulated by beginners.
Can be used for carving, 3D Printing, laser cutting, and more.
Best for: 2D, and Milling
Level: Intermediate to Advanced, requires set-up
Ξ Overall Best Professional CNC Software.
The latest of the Mach series, Mach 4 comes with many bug fixes and improved capabilities! It's a total steal for anyone looking for a complete control package – as Mach even allows one to customize their dashboard! 
Similar to GRBL, Mach 4 requires a set-up featuring an external board to send impulses to the tool. Mach 4 comes with customizable macros, and high-performance motion control, and can use VBScript.
With an upfront payment, Mach 4 is a great investment for both casual hobbyists and industrial users. 
Graphic dashboard with simple controls
Highly accurate and updated cuts 
Can support up to 6 axes
Tool management, and library for files and templates
Scaling, offsets, carving possible
PRICING PLAN
MACH4 HOBBY

$200 – A full-featured software version to be marketed toward those interested in using CNC machinery for their own personal /non-business use.

MACH4 INDUSTRIAL

$1,400 – A full-featured software version with greatly expanded customer support, including phone support for customers in a manufacturing environment where every second counts.
Mach4 Industrial includes Macro B G-code programming, tool life management, screw mapping, and an advanced GUI editing tool.
Pros
Software architecture-wise – extremely modular code.
Can run various machines from mills, and lathes to routers and 3D printers.
High level of control in code even while running.
Cons
Requires external motion controller.
Best for: 2D, Milling, and 3D Printing
Level: Intermediate to Advanced
Ξ Professional CAD Software for CNC.
As the name suggests, V-Carve Pro is the best in the game when it comes to any type of complex 2D CNC cutting, including V-carving! It supports STL, OBJ, 3DM, and SKP file types. While you can also use it to machine 3D models, V-Carve Pro's specialty is surely in the different types of 2D outputs it can offer.
This ranges from textures like fluting to prism carving and various types of moldings. With a paid package, one can get access to their huge library of 2D and 3D models, which are in editable format. 
Can create all types of textures and flutes
Work with complex 2D design sets, many predefined templates, and tool paths
Includes 2D and 3D modeling sets, including G-code creator
Can carve nested parts automatically
PRICING PLAN
UNLIMITED FREE TRIAL

$699 (exclusive local taxes) – VCarve Pro gives you the power to produce complex 2D patterns with profile, pocket, drill, and inlay toolpaths, plus gives you the ability to create designs with v-carving textures as well as import and machine unlimited Vectric 3D clipart or single model files.
The 'Pro' edition gives you unlimited job and toolpath size, true shape nesting & job set-up sheets, ideally suited to a production environment.
Pros
Great precision control with curves and arcs.
Multiple types of file exports, making it compatible with many CNC tools.
Auto-raster from images.
Cons
Cannot perform adaptive milling.
Limited work area in free version.
Best for: 2D, Milling, and 3D Printing
Level: Beginner to Intermediate
Free CAD/CAM Software: Is it Right for You?
Free tools don't necessarily mean you're being short-changed!
There's a huge community of online developers who make and upload free code on the internet for everyone to use.
While free tools like GRBL do mean that you need to put in some effort and make a setup yourself, there are great tools with many high-end features that allow for precise manufacturing.
However, if you're someone looking to save time and have on-call support at all times – perhaps you can opt for a paid subscription service like Easel or AutoCAD. 
Which one to choose – Multipurpose or Dedicated CNC Software?
For individual users, using multipurpose software is often more economical.
These tools require more CPU space and RAM but are easy to use and friendlier.
Those looking to manufacture on an industrial level, or serious enthusiasts may, on the other hand, consider dedicated software for each segment that allows greater control and granularity. 
FAQs
Q1. What's the difference between CNC and CAM?
CNC stands for Computer Numerical Control and is responsible for creating the code that transfers data regarding the machining. CAM, on the other hand, stands for Computer-Aided Manufacturing which is responsible for running the actual hardware parts that bring forth the printing or production process. CNC and CAM work together in tandem to create the end result. 

Q2. What do CAD and CAM mean?
CAD and CAM are terms standing for Computer-Aided Design and Computer-Aided Manufacturing respectively. While CAD is used for designing 2D or 3D designs using a virtual visualizer, CAM refers to the actual hardware processes that get the machining job done. 

Q3. What is the difference between CAD and AutoCAD?
CAD is an umbrella term referring to any tool that can help one make designs and G-code to be sent to a CNC router. AutoCAD on the other hand is a specific CAD software.

Q4. Which is better CAD or CAM?
CAD and CAM are two different types of tools, hence direct comparison between the two is redundant. Ideally, for machining, you need a CAD tool, a CAM tool, and a machine controller. 
Final Words
CNC tools are great for rapid prototyping as well as for final cuts.
Having a set-up at home can be an asset as it allows one to engage in various projects on their own.
Besides, there are many free videos and tutorials on the internet that explain how to set up and learn the tools.
So, why rely on someone else for your next project?