Have you ever watched an engaging animated video and wondered, "How did they make that?"
Well, you're not alone. Animation has become a go-to resource for e-learning because it brings lessons to life, helping to engage and educate viewers effectively.
And the best part?
You don't need a Hollywood budget or a degree in computer animation to create your own.
There's a broad range of e-learning animation software out there that is both affordable and user-friendly.
But which one is the best?
In this article, we are going to discuss some of the best e-learning animation software options for you.
Best Overall
With Animoto, create videos that engage and impress. Animoto's drag-and-drop editing tools and visual effects make it easy. No training or experience is required.
Easy-to-use
Doodly Is The First And Only Doodle Video Creation Software To Allow Anyone, Regardless Of Technical Or Design Skills To Create professional, realistic doodle videos in minutes.
What is E-learning Animation Software?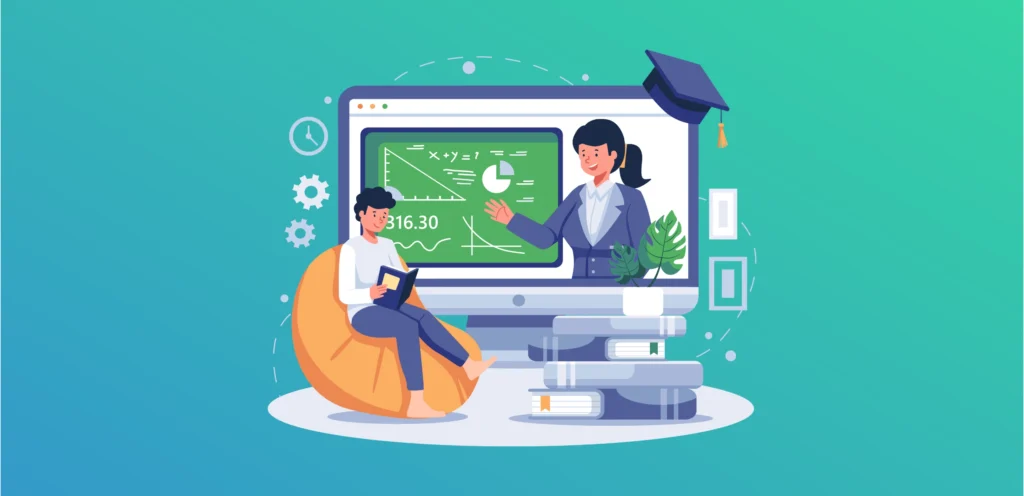 E-learning animation software is a specialized tool used to create engaging, interactive, and visually appealing content for online learning. It is typically used by educators, instructional designers, and e-learning professionals to enhance lesson plans and provide more effective and enjoyable learning experiences.
At its core, e-learning animation software allows users to design and animate characters, create dynamic scenes, add interactive elements, and even include sound and voiceover elements. It provides a platform for making complex concepts or ideas more understandable and engaging through the use of motion and visuals.
The magic of e-learning animation software lies in its ability to bring learning content to life. Rather than simply reading or hearing about a concept, learners can see it in action. This not only makes learning more enjoyable but can also increase comprehension and retention.
How E-Learning Animation Software Works?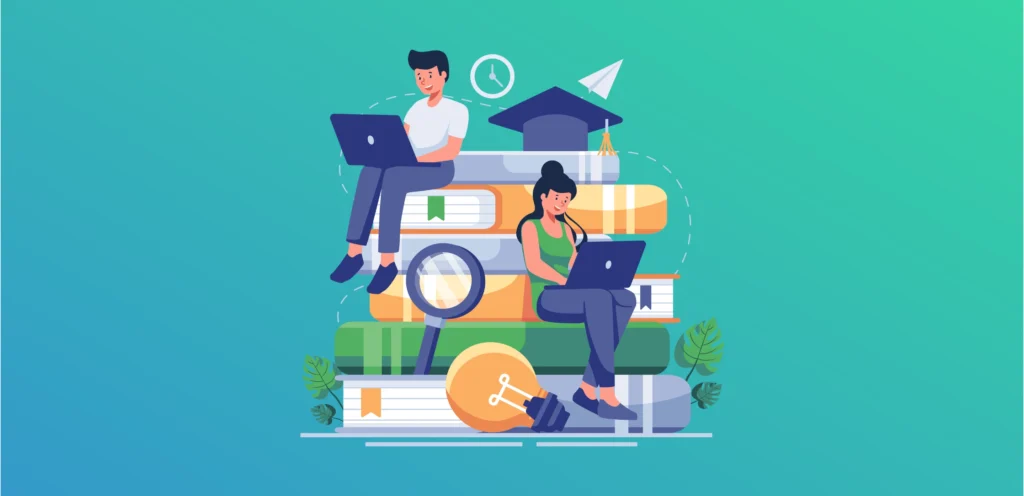 E-Learning animation software isn't rocket science, and you don't need a wizard's degree in tech-sorcery to use it. Here's a nifty guide to how it all works.
Step 1

: Choose Your Software

The first step is to pick your e-learning animation software. There are lots of options out there, each with its own strengths and special features. Some focus more on simplicity and user-friendly design, while others have a ton of advanced tools and options. Do a little research and find the one that suits your needs and skills best.
Step 2

: Create or Choose Your Characters

Next up, it's time to create or choose your characters. Some software has ready-to-use characters and objects you can use. Or if you're feeling adventurous, you can design your own from scratch. Remember, these characters will help you explain concepts, so choose wisely!
Step 3

: Animate Your Scene

Now comes the fun part – animating your scene. You can move characters around, make them speak, and even have them interact with other objects in the scene. This step might take a little practice, but hey, every master was once a beginner, right?
Step 4

: Add Interactions

This step is all about making your animation interactive. This could be anything from clickable buttons to drag-and-drop activities. It's a great way to engage your learners and make the learning experience more active.
Step 5

: Add Audio

Sound is a powerful tool in e-learning animations. You can add voiceovers to explain concepts, sound effects to liven up the scene, or even background music to set the mood.
Step 6

: Export and Share

Finally, once you're happy with your animation, it's time to share it with the world. Most e-learning animation software lets you export your animation in a format that's easy to share online. So you can upload it to your e-learning platform, share it on social media, or even send it directly to your learners.
Best E-learning animation software
Vyond is a high-end eLearning animation software that was established in 2007. The platform has managed to amass a whopping 12 million registered users on six continents. Vyond is organized into four different plans – each unique in terms of styles, level of security, and training provided.
Video Styles: Vyond offers three distinctive animation styles: business-friendly, whiteboard, and contemporary. Note, the contemporary style isn't included in the Essential package.
Available Support: Premium, Professional, and Enterprise packages provide access to a live in-house support team, Vyond community connections, and over-the-phone professional consultations.
Royalty-Free Music Library: Vyond provides a library full of royalty-free music, ensuring you don't have to worry about copyright issues.
PRICING PLAN
ESSENTIAL

$49/month (single-user plan) – A basic plan for those on a tight budget. The Vyond logo will be imprinted in the bottom left of each video.

PREMIUM

$89/month (single-user plan) – A single-user plan suitable for small business needs. Includes high-quality exports and live chat support.

PROFESSIONAL

$179/month (per user) – A scalable plan suitable for teams* at medium- and large-sized businesses. Includes advanced features and priority customer service. *Requires one seat for each user & seats cannot be shared.

ENTERPRISE

Custom Pricing – An enterprise solution featuring the full capabilities of Vyond, augmented with cross-team collaboration, cross-team user management, advanced video, and asset management, centralized or decentralized billing, SSO, enterprise-grade information security and data privacy, customized training & onboarding, and a dedicated account manager.
Pros
Multiple animation styles and tools.
Excellent customer support for premium packages.
A diverse library of royalty-free music.
Cons
High price point.
Lack of customer support for the basic package.
Overall, Vyond provides various styles and tools that streamline your company's animation process, albeit at a substantial investment. Therefore, Vyond is better suited for individuals familiar with eLearning animation tools.
Powtoon is an acclaimed choice among prominent brands such as Starbucks, Coca-Cola, and Costco. It even has the approval of 96 percent of Fortune 500 companies.
Powtoon is a viable option for companies seeking user-friendly software with a plethora of options.
User Friendly: Powtoon provides ample tutorials and guides, making it accessible to beginners.
Diverse Template Gallery: Powtoon offers a wide array of video templates, from sales to HR, and even holiday and event themes. They're extremely customizable to meet your organizational needs.
Pricing: While not the cheapest in the market, Powtoon does have more affordable plans.
PRICING PLAN
LITE

$50/month or $15/month ($180 billed yearly)
– Export without Powtoon branding
– 5 premium exports per month
– Download as mp4
– Access to free assets & templates
– Length up to 10 min

PROFESSIONAL

$190/month or $40/month ($480 billed yearly)
– Everything in Lite
– Unlimited premium exports
– Access to the complete content library
– Access to all images, footage & music
– Access to all PRO templates
– Length up to 20 mins

BUSINESS

$125/month [Annual Only] ($1500 billed yearly)
– Everything in Professional
– Create your own custom characters
– Add custom logo & fonts
– Convert your text to voiceover
– Add Camera movement
– 3rd-party reseller rights
– Length up to 30 mins
Pros
User-friendly with extensive tutorials.
Diverse and customizable video templates.
More affordable plans than some competitors.
Cons
Absence of a video timeline.
Limited scene styles, leading to potentially time-consuming content matching.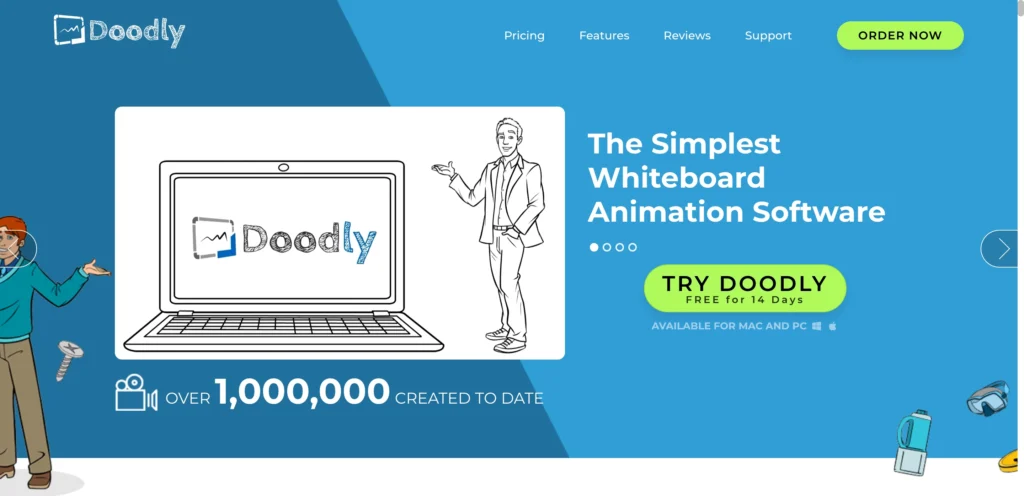 Doodly is a whiteboard animation software that allows you to create videos by simply dragging and dropping a vast selection of images, characters, and text onto a canvas.
It's particularly popular for educational videos, presentations, social media content, and storytelling due to its simplicity and effectiveness.
Drag-and-Drop Customization: Doodly allows you to easily customize your animations with a simple drag-and-drop interface.
Diverse Board Styles: You can create animations on a whiteboard, blackboard, green board, or glass board.
Library of Custom-Drawn Doodles: The software has a large library of custom-drawn doodles to choose from, or you can upload your own images.
PRICING PLAN
STANDARD

$49/month or $490/year (Billed Annually) – This plan includes access to a high-quality doodle image library, unlimited video creation, and the ability to create whiteboard, blackboard, green board, and glass board videos.

ENTERPRISE

$79/month or $790/year (Billed Annually) – This upgraded plan offers everything in the Standard plan plus a larger image library, access to new characters each month, and priority access to new features and updates.
Pros
Ease of Use: Doodly is incredibly user-friendly, making it a great tool for those who are new to animation.
Versatile Output: You can export your videos in various formats and resolutions, from 360p to 1080p.
No Watermark: Doodly does not impose watermarks on your videos, allowing for a cleaner look.
Cons
Separate Purchase Required: Although owned by the same parent company, Doodly, and Toonly must be purchased separately if you wish to use both software types.
No Free Trial: Doodly does not offer a free trial, which means you can't test the software before purchasing.
Limited Animation Styles: While Doodly offers a unique animation style, it doesn't provide the same variety of animation types as some other software.
Animoto is an easy-to-use, cloud-based video creation service that produces video from photos, video clips, and music into video slideshows.
It is a popular tool for educators, businesses, photographers, and consumers looking for a simple way to create powerful, professional videos.
Storyboards: Pre-built and fully customizable storyboards guide you in the video creation process.
Styles & Templates: A wide array of video styles and templates help create the right aesthetic for your content.
Music Library: Access to thousands of pre-licensed music tracks to add the perfect soundtrack to your video.
PRICING PLAN
FREE

$0/month – Create unlimited videos. Free forever!

BASIC

$16/month or $8/month ($96 billed yearly) – Create unbranded videos with unlimited downloads.

PROFESSIONAL

$29/month or $15/month ($180 billed yearly) – Create customized videos with professional tools

PROFESSIONAL PLUS

$79/month or $39/month ($468 billed yearly) – Create branded videos at scale with advanced tools
Pros
Free plan: Animoto has a forever free plan which enables us to create unlimited videos.
Ease of Use: Animoto is very user-friendly. Its drag-and-drop interface makes creating professional videos quick and simple.
Extensive Music Library: The access to a large library of pre-licensed music tracks sets Animoto apart from many other video creation tools.
High-Quality Output: With the Professional and Business plans, you can create videos in full HD (1080p).
Cons
Limited Advanced Editing Features: While Animoto is great for beginners, it lacks some of the advanced editing features found in more professional video editing software.
Watermark: Videos created with the Personal plan include an Animoto watermark.
iClone is a sophisticated animation software that has earned the trust of several prestigious organizations worldwide, including the likes of the FBI, Ford, and Microsoft. It's a platform that's renowned for its cutting-edge technology and high-quality output, setting it apart in the eLearning animation software market.
iClone stands out with its powerful 3D character creation capabilities, where users can produce lifelike characters with customizable appearances and lip-synced dialogues.
iClone is a powerful tool for creating professional, high-quality animations, though it may require some learning and adjustment for beginners.
3D Characters: iClone offers lip-synced and fully customizable 3D characters.
Environment Creation: With ready-made templates for interior designs and landscapes, iClone makes environment creation quick and easy.
Advanced Lighting And Shadowing Effects: Tools like HDR, IBL, and AO, among others, help create lifelike atmospheres for all animated video needs.
PRICING PLAN
CUSTOM PRICING

iClone doesn't list standard pricing on its website, as it varies depending on the specific features and packages chosen. It's advisable to visit their website or contact their sales team for detailed pricing information.
Pros
Offers advanced features like 3D characters and environmental creation.
Provides advanced lighting and shadowing effects.
Open Architecture system for enhanced customization.
Cons
Higher learning curve compared to other tools.
Pricing can be unclear due to customizable packages.

conclusion
It's been quite a journey exploring all these eLearning animation software. Starting with Vyond, it's a premium choice I really admired for its impressive styles and unique features. Then, there's Powtoon, a favorite among big brands. It's user-friendly and, trust me, it doesn't cost a fortune!
Next, I looked into Doodly and Toonly – perfect if you're like me and just starting out.
GoAnimate is another one that stands out, you can make a video in less than 5 minutes! And let's not forget iClone, which is used by giants like the FBI and Microsoft.
So there you have it, my personal deep-dive into the world of eLearning animation software.
Don't just follow the popular option, choose what fits your need and you are good to go!