Are you tired of juggling your bills, income, savings, and expenses in your head?
Have you ever forgotten to pay a bill or lost track of how much you've spent in a month?
At some point, did you wonder if there's a better way to manage your money, but without having to be constantly online?
If so, you're not alone!
Many people are in search of an effective way to handle their finances that doesn't require an always-on internet connection.
Well, we've got you covered.
We have compiled some of the best software programs that are designed to help you manage your money, track your spending, and plan for the future, all while providing the comfort of data privacy without the need for a continuous internet connection.
These offline personal finance software options are perfect for those who prefer to manage their finances in their own time, at their own pace, without worrying about being always connected to the internet.
And The best part is…all of them are FREE and open-source software! (Meaning, you can download and use them entirely for free without paying a dime…ever!)
How to Choose the Best Personal Finance Software?
When it comes to managing your money, having the right tool can make all the difference.
Choosing the best personal finance software depends on your financial goals, lifestyle, and personal preferences.
Here's how you can navigate the process of selecting the right one for you.
Understand Your Financial Needs
Before diving into the sea of options, it's important to have a clear picture of your financial needs.
Are you looking for a tool to help budget your personal expenses?
Or, are you in need of a robust platform to manage your small business?
Understanding what you require from finance software will guide your choice.
Check the Features
Different personal finance software offers different features.
Some are designed for simplicity with basic budgeting and expense tracking, while others offer comprehensive features such as investment tracking, bill payment, and complex financial reports.
Make sure the software you choose has the features you need.
User-Friendliness
The ideal personal finance software should be user-friendly.
If the interface is too complex, it can be a hassle to manage your finances.
Always choose software that has a clear, intuitive layout and straightforward navigation.
Security Measures
When dealing with personal financial data, security is of utmost importance.
Look for software with robust security measures in place, including strong encryption, password protection, and two-factor authentication.
Pricing
Many personal finance apps offer a range of pricing models, from free to monthly or yearly subscriptions.
While free options can be a great option to start, they may lack certain features as well.
On the other hand, paid options often come with more features and better customer support.
Decide what's worth paying for based on your needs and budget.
Platform Compatibility
Make sure the software is compatible with your preferred devices.
Whether you want to manage your finances on a desktop computer, a smartphone, or both, ensure the software you choose supports your platform.
Best Offline Personal Finance Software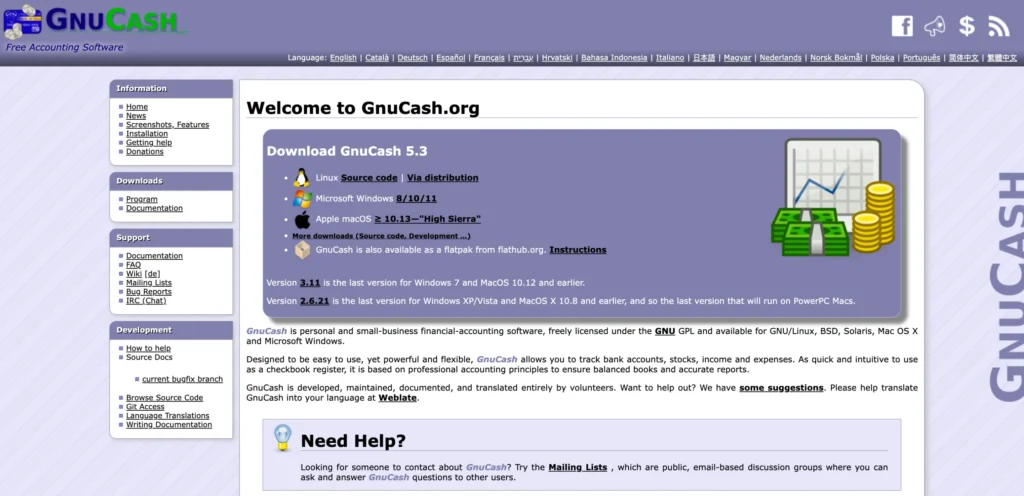 GnuCash is a free and open-source accounting software that can help you manage your personal or small business finances.
It offers double-entry accounting, which is something professionals often use but it's simplified for everyday folks too.
GnuCash helps you keep track of where your money is coming from and where it's going.
Whether you want to keep an eye on your daily spending or make sure your business's books are in order, GnuCash has the tools to help you do it.
You don't have to be an accountant to use it, and it doesn't talk down to you with jargon or complex functions.
Easy-to-use interface
Double-entry accounting
Track investments
In-built reporting tools
PRICING PLAN
100% FREE – Freely licensed under the GNU GPL and available for GNU/Linux, BSD, Solaris, Mac OS X, and Microsoft Windows.

• Double-Entry Accounting.
• Stock/Bond/Mutual Fund Accounts
• Small-Business Accounting
• Reports, Graphs
• QIF/OFX/HBCI Import, Transaction Matching
• Scheduled Transactions
• Financial Calculations
Pros
Free to use
Comprehensive features
Strong community support
Cons
May have a learning curve for complete beginners
A bit outdated interface
Skrooge is another free and open-source software that offers personal finance management. It's known for its flexibility and ease of use.
Skrooge lets you manage your money in a way that fits you. It's adaptable, so you can make it as simple or as complex as you want.
With Skrooge, you can track your spending, savings, and investments, and see it all in clear, easy-to-understand reports and graphs.
Multiple account support
Graphical reports
Budget tracking
Import and export functionality
Pros
Flexible and customizable
User-friendly
Regular updates and support
Cons
Lack of tutorials or guidance for new users
Less suitable for business accounting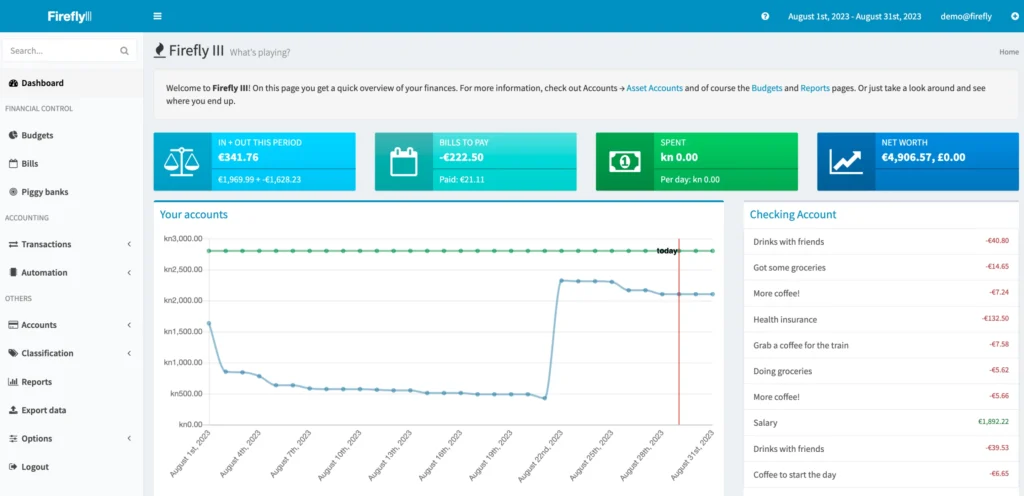 Firefly III is a comprehensive and versatile personal finance manager that's entirely free and open-source. It comes with a double-entry bookkeeping system that makes managing your transactions in multiple currencies a breeze.
It is designed to simplify the complexity of managing money across multiple currencies.
Whether you're a budgeting pro or just starting to organize your finances, Firefly III offers an inviting platform that has been evolving for over a decade.
It's not just about tracking dollars and cents; it's about understanding your financial patterns and making informed decisions.
Full transaction management: Organize your transactions quickly in various currencies.
Import data from any source: Use the special Data Importer to seamlessly bring data into your Firefly III.
Advanced rule engine: Convert shorthand to detailed transactions or clean messy CSV files from your bank.
Budgets, categories, and tags: Whether you prefer tags, categorizing expenses, or budgeting, Firefly III has got you covered. Even multi-currency budgeting is possible.
Informative reports: Advanced reporting capabilities show your expenses by week, month, or year and provide detailed account audits.
JSON rest API: The expansive JSON REST API allows advanced users to tap into Firefly III's main features from any app or system.
PRICING PLAN
100% FREE & OPEN SOURCE PERSONAL FINANCE MANAGER

• Full transaction management.
• Import data from any source.
• Advanced rule engine to quickly convert shorthands to detailed transactions.
• For the advanced and mobile users out there, Firefly III features an expansive JSON REST API that allows you to tap into Firefly III's most important features.
Pros
Free, open-source, and feature-rich
Customizable to personal needs
Ability to import and organize data seamlessly
Cons
Might be overwhelming for some new users
The user interface might require some getting used to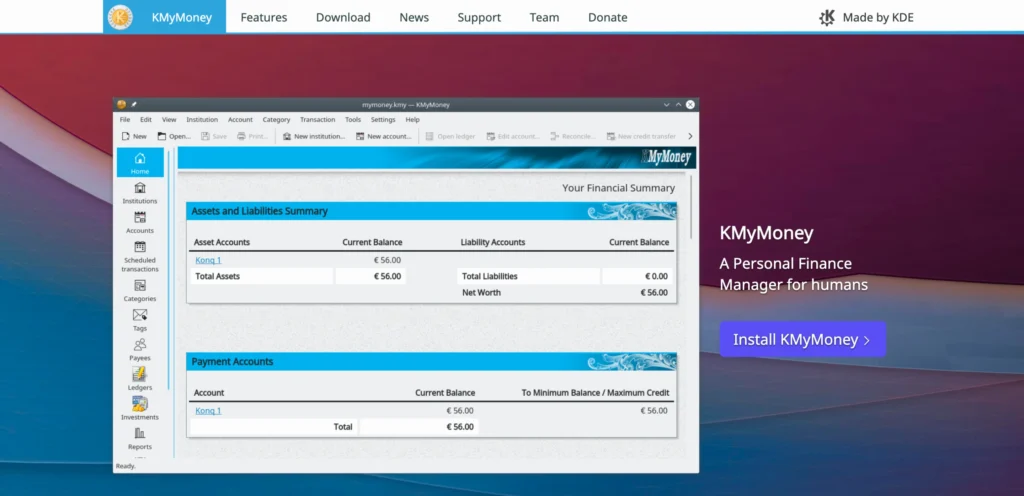 KMyMoney is a personal finance manager designed to provide users with a comprehensive set of financial features.
Developed with the KDE desktop environment in mind, it's aimed at non-technical users who require a reliable tool to manage their personal finances.
KMyMoney provides a robust and user-friendly solution for personal finance management. It's designed to be familiar and easy to use, making it a great choice for those who prefer a tool that doesn't require a deep understanding of accounting principles.
Despite its focus on ease of use, KMyMoney doesn't compromise on accuracy. Using time-tested, double-entry accounting principles, KMyMoney ensures your finances are recorded correctly.
Double-entry accounting
Personal financial summary
Easy management of financial institutions and accounts
Scheduled transactions for recurring payments
Comprehensive category management
PRICING PLAN
100% FREE & PERSONAL FINANCE MANAGER FOR HUMANS

• Linux
• Windows
• macOS
• Source code archive
• Git
Pros
Simple and intuitive user interface
Broad array of financial features
Customizable financial summary page
Accurate using double-entry accounting principles
Cons
Some users might find it too complex for basic personal finance tracking
Lack of support for online banking

conclusion
Getting your finances in order isn't gonna be a walk in the park. It takes discipline, careful planning, and the right tools.
That's where personal finance software comes in. It ain't just about tracking where your cash goes. it's about understanding your spending habits and finding areas where you can save a few bucks.
The "best" isn't the same for everyone. The best Offline Personal Finance Software for you is one that's easy to use, meets your financial needs, fits within your budget, and most importantly, helps you manage your money better.
So choose wisely, choose clarity!